Empower your mobile salesforce to create quotations, sales orders, invoices and record payments instantly and remotely, and post the documents into SAP Business One real time.
With SalesAnywhere, there is no more need of data entry in the back office after the salesmen are back. Salesmen can also look up overdue invoices of their customers and send payment reminders to their customers to encourage prompt payments.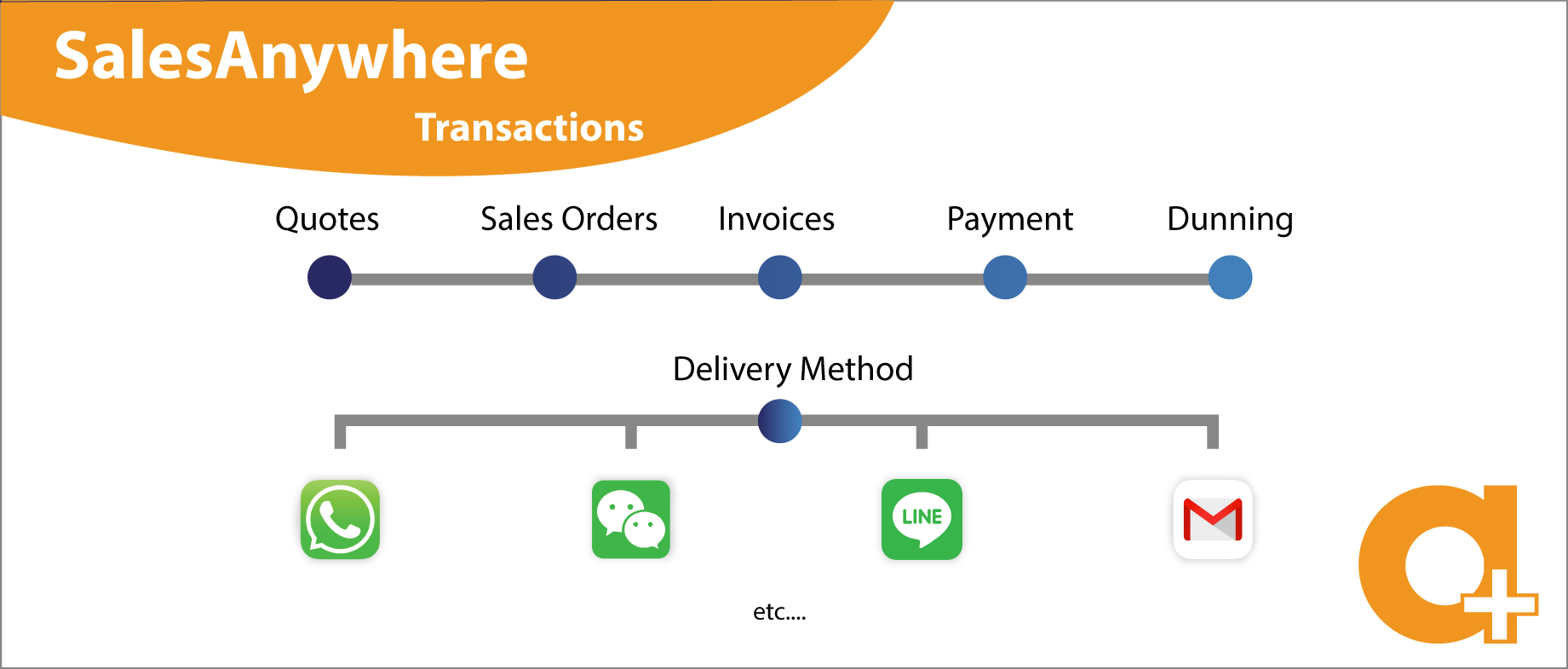 The Solution
SalesAnywhere is a simple and cost-effective solution that makes use of web service technology and the SAP Business One SDK to provide real-time online posting of transactions on mobile devices when salesmen are on the road.
Quotations
Impress your customers by creating and sending them quotations instantly in front of them, instead of days later.
Include pictures of items in quotations
Send quotations through email or messaging apps (like WhatsApp) on the phone
Sales Order
Create sales orders remotely and post them in SAP Business One right away.
Scan barcodes on products to speed up the entry process
Look up stock availability
Delivery and invoicing
If physical products or services are delivered to customers by mobile salesmen, shipments and invoices can be generated and posted as well on the spot, and payments recorded.
Keep stock availability and count up-to-date
Record payments against the invoices
Send invoices to customers through email or message apps right away
No more need of invoice processing in the back office
Quotations
Put your salesmen in control of reminding their customers of overdue payments. They would be glad as their commissions depend on full customer payments.
Look up overdue invoices of customers
Generate dunning letters in the app rather than waiting for these to be processed in the back office, and send to the customers right away
Main benefits
Shortened sales cycles
Quotations, sales orders and invoices are generated on the spot instead of potential delays due to back office data entry and processing. Documents are posted in SAP Business One real-time.
ROI $
Since there is no more need of back office data entry, the more sales transactions processed with SalesAnywhere, the more time and resources saved
Simple and easy to use app, and quick implementation result in quick time to benefits for customers
Partner and customer friendly
Plug-in solution to your existing SAP Business One, developed 100% with native SAP Business One SDK
Short implementation time – up and running in 5 days
Simple app with familiar business processing flow means no training required for the users
Requirements
Server
SAP Business One 9.3
One Indirect Access Site license, regardless of the number of SalesAnywhere users
Windows Server 2012 or above with Internet Information Server (IIS) as the web server
Phones or tablets
Android 4.4 (KitKat) or above
iOS 10 or above