See your business in a new way.
Realize the future of your business today.
If your company wants to compete in today's fast-paced business arena your need to control consts in order to maximize profitability. Sage 300 ERP is a comprehensive business management solution designed to keep your total cost of ownership low by supporting multiple technologies, databases and operating systems. Available in multiple editions, Sage 300 ERP gives you the opportunity to add users and adopt greater functionality as your business can comfortably reach around the globe. Sage 300 ERP contains the power and tools to help you see your business in a new way so you can improve productivity, envision success, and accelerate growth. It's time to turn your business dreams into reality with the real-time visibility, collaboration, and innovation you need to succeed.
One Solution Provides
a 360° View of Your Business
Our rich history of innovation and growth has enabled us to build a portfolio of products and services widely recognized for ease of use and low total cost of ownership. Sage 300 ERP connects your entire operation with a single, integrated solution that provides you with greater visibility, making it easier to share information and communicate. Over 45,000 mid-market businesses across 150 countries around the globe use Sage 300 ERP solutions to unlock potential, reduce costs, and improve performance.
Improve Productivity
Motivated, focused, empowered, productive, and efficient people move your company toward success. That's common knowledge. The difficult part is finding the right balance between allowing your people to work the way they want and capturing the key financial data you need to remain compliant with government regulations and auditing controls. Designed to help you get more done, more quickly while connecting information and streamlining processes—Sage 300 ERP helps you stay compliant while fueling the individual and teamwork that is needed to take your business forward. Along with an intuitive solution that people get, so they want to use it, Sage 300 ERP offers mature, proven functionality that automates financial management and business operations—including distribution, services, and project management.
By ensuring all your buiness process work together efficiently, you can increase performance, create customer loyalty, and improve relationships with partners and suppliers.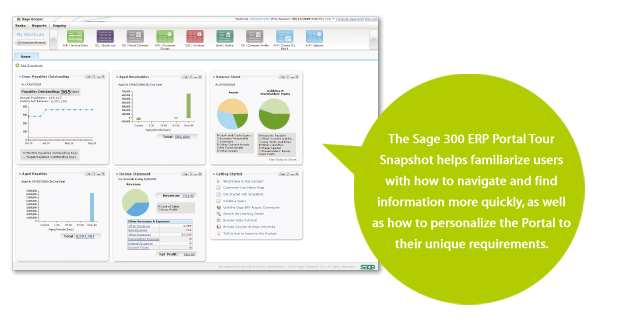 Comprehensive Accounting/Financial Management
The powerful financial tools of Sage 300 ERP help you confidently manage you company's complex finances and remain compliant with government regulations such as GAAP or IFRS. Features include full multicurrency capability, powerful bank reconciliation and tax reporting, flexible transaction processing options, powerful management of fiscal periods, and informative dashboards for analytical reporting. Sage 300 ERP Core Accounting modules help businesses succeed by accurately presenting valuable financial information in a clear, understandable format.
| | | | |
| --- | --- | --- | --- |
| • | General Ledger | • | System Manager-Bank Reconciliation |
| • | Accounts Payable | • | Sage Active Planner-Advanced Budgeting |
| • | Accounts Receivable | | and Allocations |
| • | Payment Processing by Sage Exchange | • | Sage Fixed Assets |
| | | • | Check and Form Printing by PrintBoss |
Simplified Global Commerce and Multiple Company Management
Easily manage global commerse across multiple companies or subsidiaries. No matter where you do business, maximize your international insight and exchange information worldwide with Sage 300 ERP Multicompany and Global Operations Management. Enhanced visibility into business metrices provides critical information at your fingertips for easier, smarter daily and long-term planning, providing the vision you need to respond to business trends while minimizing risk and maximizing the effectiveness of your decisions. Set up multiple companies in one or more databases, run processes, close books, and report results by company or in a condolidated company.
| | | | |
| --- | --- | --- | --- |
| • | Multiple Language and Localization Support | • | G/L Consolidations |
| • | Multicurrency Manager | • | Inter-Company Transactions |
Cost-Effective Operations, Distribution, and Supply Chain Management
Optimize operations and distribution processes to eliminate waste and deliver on time—every time. Accerlate growth, enhance customer satisfaction, and improve your bottom line. Sage 300 ERP Operations and Distribution Management modules ensure your business follows best practices for efficiency and accuracy by automating and integrating processes to keep your warehouse, inventroy, production, and service departments aligned and running smoothly. With features that support multiple warehouse configurations as well as multiple site customers, Sage 300 ERP is optimized for a wide variety of distributions. The Sage 300 ERP distribution solution empowers you to strategically manage every aspect of the distribution cycle, from purchasing all the way through sales, with unparalleled efficiency and control.
| | | | |
| --- | --- | --- | --- |
| • | Inventory Control | • | Credit Card Processing |
| • | Purchase Order | • | Return Material Authorization (RMA) |
| • | Order Entry | • | Electronic Data Interchange (EDI) by TrueCommerce |
| • | Sales Tax by Avalara | • | Warehouse Management by Accellos |
Optimize Services and Project Management
Ensure optimal performance of your services, maintenance, and project management processes at virtually any touch point. Make smarter, faster service and support decisions that exceed customer expectations with Sage 300 ERP Services and Project Management solutions. Get the visibility and intelligence you need into all information and key performance indicators to effectively allocate resources, increase customer uptime, and enhance productivity across all business systems.
| | | | | | |
| --- | --- | --- | --- | --- | --- |
| • | Project and Job Costing | • | Service Manager by Technisoft | • | Sage TimeSheet |
Maximize Your Human Resources
Bring a competitive edge to your HR and watch your employee ROI take off. Improve alignment between your people and your business objectives and make your employees one of your company's strongest and most competitive assets. Make more effective strategic decisions, alleviate economic pressures, and quickly resolve the multitude of tactical issues HR faces every day.
| | | | |
| --- | --- | --- | --- |
| • | Payroll | • | Sage HRMS |
| • | Sage HRMS Select | • | Sage HRMS Workforce |